ESG
Environmental, Social and Governance
Curtis Banks Group ESG Strategy and Policy – Fairness for current and future generations
This Environmental, Social and Governance (ESG) policy is designed to inform you of the material issues and opportunities we choose, as stakeholders of Curtis Banks, to influence in the world.
Curtis Banks is a UK based financial services organisation providing long term pension solutions. We help our customers support themselves and their families in retirement beyond the financial support provided by the UK government. We are also an employer of over 800 staff across multiple locations in the UK, with a responsibility to everyone to be doing the right thing.
Getting this right for our customers also gives us the opportunity to make a stand and act on important issues to society, the economy and the environment.
At the heart of what we stand for is a position of fairness between generations in the UK. We are proud to have partnered with the Intergenerational Foundation and through our continued work with them we know that there are many things in common across the generations (i.e. a need to move quickly to a low carbon economy) and many imbalances including the need to address intergenerational inequalities of finances.
We commit to working on these as key long term issues in our day to day business activities through providing good service, designing future proofed products, through our employment practices and looking at how we can make money work harder to make the world just a little more equal.
Accountability for ESG performance of the Curtis Banks Group is overseen by Chief Executive Officer Peter Docherty. Progress on our activities will be reported at monthly Executive Committee (ExCo) meetings to keep actions and relevant communications on track and more formally through our annual reporting cycle.
We are a UK based business with UK customers and we recognise that we have a wider role to play in the world. We are aligning our work to the 17 United Nations Sustainable Development Goals so that all stakeholders can see the line of sight between our UK work and its global impact.
We will be working on a range of activity and setting actions and providing comprehensive updates to help you understand what outcomes we are driving towards regarding our ESG performance.
The ESG Policy is an exciting step forward for the Curtis Banks Group and one that demonstrates our commitment to providing the best outcomes for all, as well as addressing important issues to society, the economy and the environment.
Whether you agree or disagree with our plans, or want to simply help us go faster, please get in touch to let us know your thoughts.
We have launched a tree planting initiative, to demonstrate our commitment to the environment. You can view our virtual forest here.
We will be calculating our environmental impacts per pension policy we are responsible for and laying out plans to offset carbon.
We are asking our Deposit Takers and Cash Fund managers to disclose the ESG performance of the cash that we place with them.
We have built a relationship with the Intergenerational Foundation to be a 'critical friend' to our business in public affairs work, making sure our products and services are fit for purpose in enabling intergenerational fairness.
We led the way in conducting 'unconscious bias' training for software developers in our Fintech arm Dunstan Thomas.
We are delighted to have become a Living Wage Foundation accredited Employer and join thousands of organisations, businesses and people, across the UK, who believe in realistic pay levels for hard working families: https://www.livingwage.org.uk
We will be working with our customers and our employees to understand their experience and requirements around intergenerational fairness so that we can share that knowledge between generations and develop new products.
We have a dedicated Corporate Social Responsibility (CSR) Team working on making positive changes in our local communities and philanthropic activities.
Corporate Social Responsibility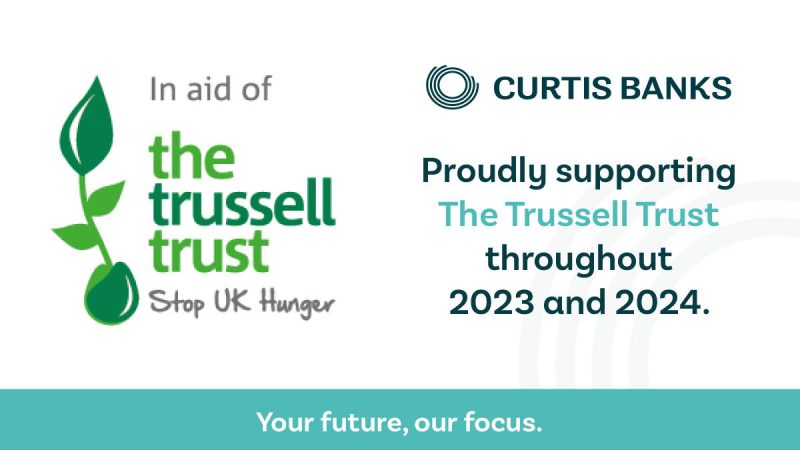 Curtis Banks recognises the importance of strong ethical values in order to meet our responsibilities to our stakeholders. These stakeholders include our customers, our employees, our investors, our suppliers, the community, and the environment.
Corporate social responsibility (CSR) is a core strength for our business, often driven by the many inspirational efforts of our staff
We have a broad focus on all CSR matters such as environmental, fundraising, community, social awareness and individual support.
Coordinating across all three of our locations, we provide support for a range of national activity days, such as Comic Relief, Macmillan Coffee Mornings and Children in Need with bake sales, jumper days, sporting challenges and raffles.
We ask our employees to select a chosen charity that we will support through our CSR activities. The Curtis Banks Group will be fundraising for The Trussell Trust for 2023 and 2024.